Rogue Marine utilizes marine industry standards to ensure every installation is top quality, reliable, looks professional, and is easy to service and upgrade. We use the best quality marine grade components to give you years of reliable service.
Commissioning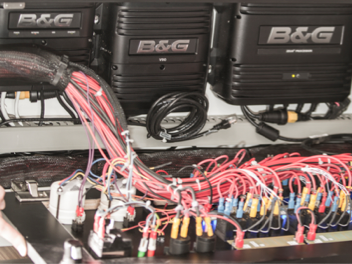 As part of every installation we fully commission every component. Depending on the electronics installed we perform the following commissioning services:
Installing the latest software versions
Configuring Wireless and Bluetooth
Entering MMSI numbers
Loading Charts
Connecting to Cloud Services such as chart updates, software updates, map sharing, PredictWind, etc
Configuring Mobile Phone/Tablet Apps
Instrument and Radar calibration and setup
Autopilot dockside and sea trial commissioning
Backup configuration for chart plotters and instruments
Initial owner training on the systems installed
Documentation
At the completion of every installation, documentation is provided including User Manuals, Quickstart Guides, a Network Diagram, and details on how the system was configured.
 Owner Installations
Many electronics are easily installed by the boat owner. Rogue Marine is available to answer any questions that come up along the way. We have experienced a wide variety of involvement in owner installations such as
100% owner installed
Collaborative installions where the owner is part of the installation team. This can help to reduce installation cost and give the owner a significant understanding of how the systems are installed and configured.
Rogue Marine is on call to help with specific parts of the installation that the owner is not comfortable performing such as instrument calibration or configuring wireless networks.